Shipping / Returns / Warranty / Service

Here you will find Rugged resources for our shipping policy, returns, and warranty information.

RUGGED RADIOS SHIPPING POLICY
We are not responsible for carrier shipping delays. Although we cannot guarantee same day shipping, under normal non-sale events and outside peak holidays, we are generally able to ship the same day for orders received by 12:00pm PST.
Rugged Radios ships via FedEx, UPS, and USPS freight carriers.
Rugged Radios is not responsible for package on time delivery - freight carriers are beyond our control. For package delivery time estimates, please visit this page for estimated delivery times. Carrier delays due to weather or other circumstance are not the responsibility of Rugged Radios.
We require signature of delivery on all shipments over $500 with no exceptions. If you cannot be available to sign for delivery, you will need to re-schedule shipment.
If you are in receipt of an item that is defective, the item must be returned to us within 15 days of the buyer's receipt of defective merchandise. We DO NOT issue 'Call Tags'. Once the item has been received and is, in fact, deemed defective by our Returns Department, a new item will be shipped out to you. You will not be charged a reshipment fee.
RUGGED RETURNS : Identifying the product sku.
Click on the images to enlarge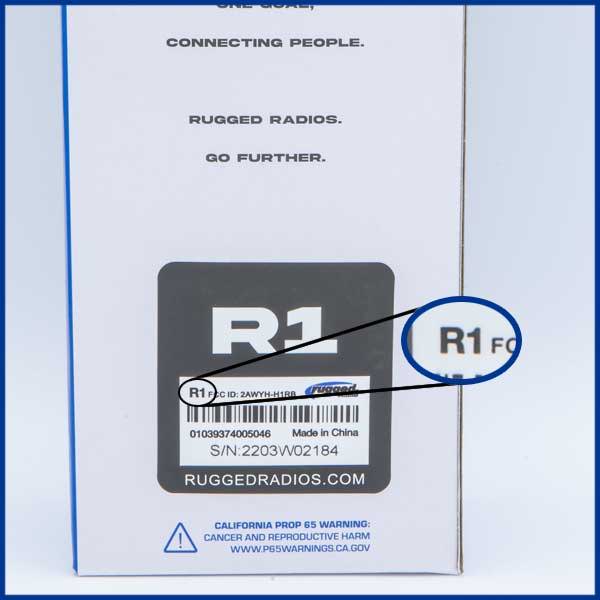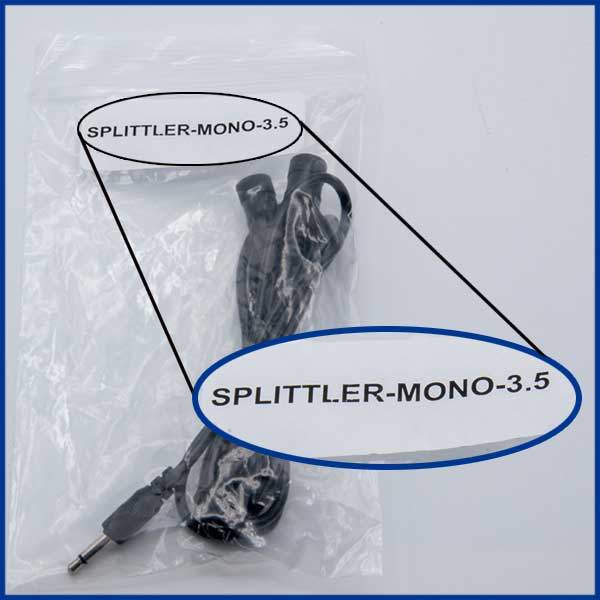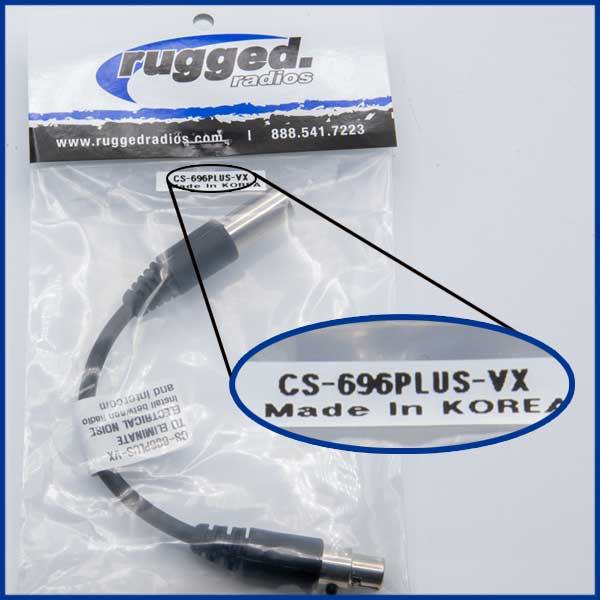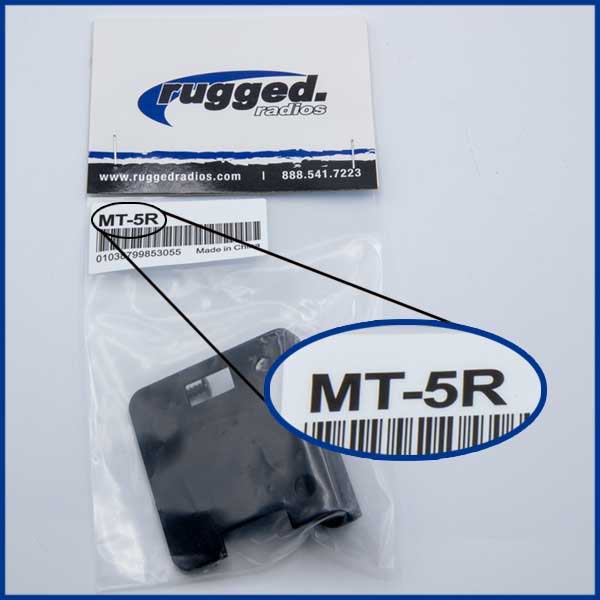 Please Note: We only accept returns for Rugged Radios products. Please find return policies for our other product offerings here: Scosche, Magellan, Lowrance.
RETURNS AND RETURN FORMS
Items marked as "clearance", "demo", or "closeout" require prior approval to return.

All other returns and/or refunds must occur within 15 days of receipt of merchandise.

Any returns after 15 days require prior approval

. Returns may take up to one week to be processed through our Returns Department. The buyer is responsible for all return shipping charges.

EVERY RETURN REQUIRES A COMPLETED RETURN FORM. Additional fees will be charged on packages being returned to us due to an undeliverable address or customer refusal of delivery.

A $25 service fee will be charged for all returned checks.

Custom orders require a 50% deposit. All custom orders are final. No returns are accepted.

All returns must be in original packaging and in like-new, resellable condition.

OUR RETURNS DEPARTMENT INSPECTS EACH AND EVERY PRODUCT THAT IS RETURNED. WE RESERVE THE RIGHT TO REFUSE REFUNDS AND/OR EXCHANGES OF ANY AND ALL RETURNED PRODUCTS IF ONE OR MORE OF THE FOLLOWING HAS OCCURRED:
Obvious wear & tear such as scratches, dents, water damage, or abuse on any merchandise; kinks or cuts in cables; tears and holes in material items; scratches on headsets and/or intercoms.

Any and all size adjustments such as helmets, products that have been used, custom fit and/or altered, etc. Dirt, sand, sun and/or water damage, etc. Obvious odors such as cigarette smoke, perfume or colognes, etc. Protective Packaging or original packaging that has been defaced in any manner or is absent upon return.

Missing related warranty paperwork, mounting hardware, inserts, attached coupons, and/or instructions pamphlets are absent.

Any products returned that were not purchased directly from Rugged Radios will not be processed.
RETURN POLICY FOR KITS / BUNDLES
Products sold as kits (UTV Kits, Radio Kits, Bundles, and others) contain components that cannot be returned or exchanged individually. Be sure you understand all of the components in any kit before purchasing.
EXCHANGES
Items marked as "clearance", "demo", or "closeout" require prior approval to return.

Items being returned for exchanges MUST be in brand new, resellable condition, in the original packaging as clearly stated above.

Approved returns intended for the purpose of exchanging will be refunded, and a member of our sales team will contact you to place a new order.

All returns are subject to inspection; If

your return product is not in its original condition as received, you may be subject to a restocking fee of up to 20% of the retail value of the product returned.

Items returned in damaged or used condition may be denied.
A refund will be remitted to you via your credit card account, PayPal, or via company check for the merchandise amount minus a 20% restocking fee for all other items. Original shipping fees will not be refunded.

You will be called by a Rugged Radios representative, and a refund confirmation email will be sent to you.

Free promotional merchandise associated with your purchase must be included with your return, or we reserve the right to charge your credit card account for the full retail fee of the promotional item. All promotional items must be returned in original, brand-new condition as previously stated.
DEFECTIVE MERCHANDISE
If you are in receipt of a defective item, the item must be returned to us within 15 days of the buyer's receipt of defective merchandise. We DO NOT issue 'Call Tags'. Once the item has been received and is deemed defective by our Returns Department, a new item will be shipped out to you. You will not be charged a reshipment fee.
INTERNATIONAL POLICY FOR DEFECTIVE MERCHANDISE
Rugged Radios does not offer any warranty or guarantee on items shipped outside of the United States. Should a defective item be sent back to Rugged Radios without prior consent from the returns department, it will be at the discretion of the returns department to handle the situation accordingly.
PLEASE INCLUDE THE FOLLOWING WITH ALL RETURNED ITEMS
The merchandise must be in its original packaging and brand-new, resellable condition with all related paperwork and packaging.

A copy of your order invoice.

Return Form with a short but precise note listing the reason(s) for the return and/or exchange.

We recommend using a reputable carrier to ship and insure your package for your protection. We are not responsible for lost or damaged merchandise that has been shipped to us. Please retain your shipping receipt.
PLEASE SEND ALL RETURNS AND COMPLETED RETURN FORM TO:
Rugged Radios
Attn: Returns Department
509 Traffic Way
Arroyo Grande, CA 93420
REGISTER YOUR RUGGED RADIOS EQUIPMENT
We guarantee our Radios, Intercoms & Headsets to be free from manufacturing defects in material and workmanship under normal use for a period of three (3) years from the date of purchase. Aviation headsets are warrantied 7 years. All other Rugged Radios branded products carry a one year warranty.

In the event that a defect covered by the warranty occurs during the applicable period stated above, Rugged Radios, at its discretion, will either repair or replace the product; such action on the part of Rugged Radios shall be the full extent of Rugged Radios' liability and the Customer's sole and exclusive reparation.

Rugged Radios shall not be responsible for any defects or damage that in Rugged Radios' view are a result from the mishandling, abuse, misuse, improper storage or improper operation of the device, including use in conjunction with equipment that is electronically or mechanically incompatible with, or of inferior quality to, the product, as well as failure to maintain the environmental conditions specified by the manufacturer.
---